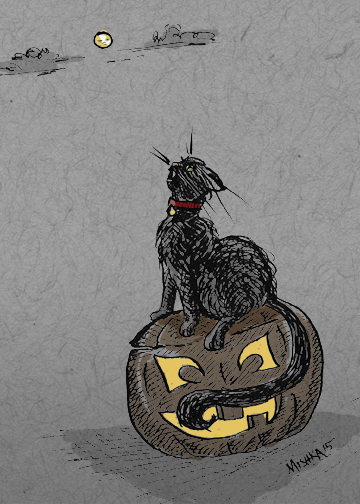 This year, I didn't need any convincing to enter the 5th Annual Halloweensie Writing Contest.
Working within the "weensie" constraints was a great experience for me last year. I had to give it a go again (and I couldn't resist doing a quick little illustration for #Inktober 2015 as well).
As most of you know, I'm primarily an illustrator and have been spending most of my not-so-spare time this past year working up better illustration skills (my wee ones are still in preschool). Small writing challenges like this one give me exactly the right push to work on wordsmithing. Thank, again, Susanna Leonard Hill for hosting.
Here are the rules: Write a 100 word Halloween story appropriate for children (title not included in the 100 words), using the words costume, dark, and haunt.
---
She haunts the streets in search of treats.
Her costume is a jaunty bell.
Green eyes that sparkle in the dark,
The moon winks back and all is well.
She tumbles, nips, and almost trips
AÂ witch, two pirates, and a mouse. Â 
They stroke her fur, laugh with her purr,
As they progress from house to house.
But one by one they have to run,
It will be bedtime all too soon.
Atop a Jack-O-Lantern's back,
She mews, then howls up at the moon.
---
Edit 11/1/2015:
This happened again last night before the kids put on their costumes. Little Kiki, the neighbor's cat, is the inspiration for this poem (and my son's costume – he adores her). She has been coming to our door all week to for Halloween treats.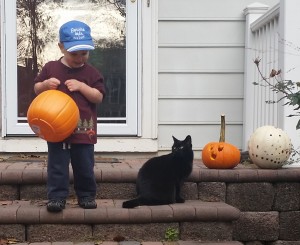 ---
Edit 11/5/2015:
Doin' the happy dance this morning! The winners are posted. I won an honorable mention again! That's a Halloweensie two-for two for me. Â And I'm listed first. I'll totally take that.
A big THANK YOU to Susanna Leonard Hill for hosting this fantastic (and tough!) competition once again this year and making me believe I can write.
Congratulations to all the winners, my critique buddy, Johnelle DeWitt for placing as well for her super-creative main character, and to everyone who entered. Honestly, y'all are tough competition!