Several times each year, my friend and colleague Terry Jennings organizes a CritiqueFest for the MidAtlantic chapter of the SCBWI.
This is a free event and is described by Ellen R. Braaf, our Regional Advisor, as "… an opportunity to meet with other writers, get feedback on a work-in-progress, learn about the critique group process, and perhaps even find a few kindred souls with whom you can continue to meet. "
Once-again, Terry asked me to facilitate the session for a group of illustrator-authors. Like last time, several participants submitted book dummies, however there was one woman who planned to attend as an illustrator-only. In the past, I've used my own cobbled-together versions of various picture book manuscript checklists to help me with my reviews, but these checklists deal with the manuscripts and not the art.
I went looking around the interwebs for information about book dummies and found several posts on what should or shouldn't go into a portfolio, several on promotional postcards, and some helpful advice about the technical aspects of creating book dummies—but only one post that addressed the art of the dummy, and I couldn't find a critique checklist at all.
So I decided to put together my own worksheet. I asked around in a couple of places and got input and feedback from my virtual studio-mate, Tami Traylor; the members of Kidlit 411; The Illustration Department; and Smart Dummies creator, Dani Duck.
I tested my worksheet out in my reviews this week and I think it worked pretty well, so I'm sharing it here in case you're working on a dummy and need some reminders for self-review, or your illustrator critique group members are adding dummies to their portfolios, or any another reason, really.
Although I included a section on individual image composition, it is meant to address the individual sketches specifically as part of the whole book, and is not intended for robust single-illustration critiques. I did not include critique etiquette guidelines in my worksheet because many good resources already exist. Remember to play nice in the sandbox, and make good art.
Copies may be shared and printed for personal, educational, and non-commercial use. If you share this worksheet I'd appreciate the credit, and if you use the worksheet, I'd love to hear your feedback!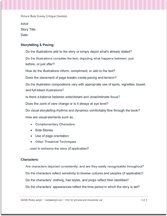 Download: PB_Dummy_Critique_Sheet_2018
---
Additional Information: