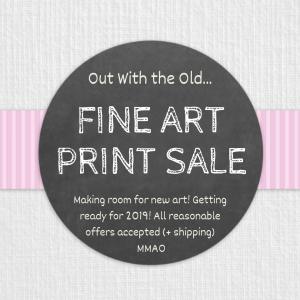 The days between Christmas and the new year are a time of reflection for most but for an artist… It's the time of year where I scold myself soundly for dragging unfinished projects from year to year while simultaneously coming up with a bazillion new ideas for the coming one.

There simply are not enough hours in the day and I find it really hard to create new things when I'm surrounded by clutter. As part of my winter cobweb cleaning, I've decided to put all my fine art prints on sale until I no longer have any.

Seriously, guys, I need to clear this space. So if you've had an eye of one of my prints for a while, now is the best time to buy it from me. Everything is now listed in my new Square shop Hey, I already had Square so why not use it?

Many prints are available in multiple sizes – 5×7, 8×10, and 11×14 – and I'll be showcasing a different illustration every day on social media. I had to set the prices on Square but if that's too much, make me an offer. No, I'm not kidding.

Shipping isn't included but I'm setting it at $4 for anywhere in the continental US. If you're local to me, let's make it an excuse to get together for coffee!

Help me clear out the old so I can make way for the new!