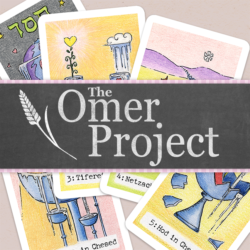 Hello Friends!
Thank you for your your interest and patience! I am finally writing with an update on The Omer Project Meditation Card Deck.
The Omer Project Meditation Card Decks are finally in the queue at the printers! Yayyy! Unfortunately, they are currently scheduled to ship on April 20th, which is a little late to arrive for the beginning of the Omer count this year.
I am told that date is the latest they will ship and that it's entirely possible they will be available sooner. Once they enter production, I'll be able to give you an order link and the card decks will be shipped directly to you at the same time they'll be shipped to me. You may get to see them before I do!
This is a limited initial run of only 250 card decks. The cost is expected to be around $30 per card deck plus shipping in the United States.
If you are local to me in Northern Virginia and want to save the shipping cost I'll have a different order link for you and we'll make arrangements for pick-up or drop off or a coffee date. 
If you're international, we'll make other arrangements as I'll need to work out specific shipping costs. When the links become available, please message me and we'll figure it out. I am very sorry that international shipments will not arrive in time for the start of the Omer count this year.
Stay tuned for the purchase links. I'll let you know as soon as I have them!
Additionally for the Omer count this year, I plan to send the daily card image and message via MailChimp mailing list. Subscribe: http://eepurl.com/ht15Yn 
Hopefully this will make up for the card decks arriving a little late. Though the printer says, you never know, they could finish sooner.
And, again, thank you so much for your patience! This is the first time I've done a project like this and I'm working hard to try and get it right!
Sincerely,
Mishka Jaeger