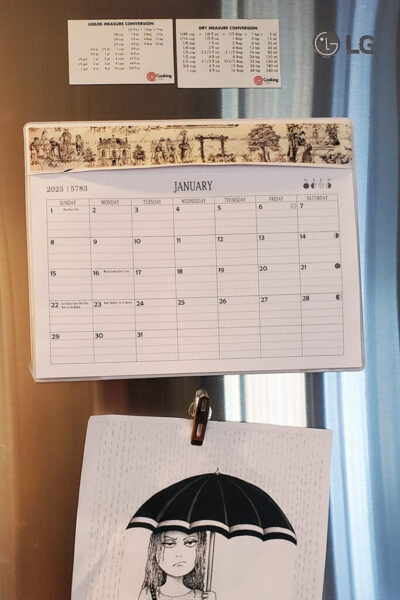 I can NOT believe we're at the end of 2022! 
 
As I'm currently under-employed, I'm using the time to catch up on my end of year sorting, filing, organizing, and tying up the loose ends of my to do list. There's a lot on there as I didn't have the time to do this LAST December so I'm playing catch up. 

This year I got a jump on my 2023 "Realtor Fridge Calendar" insert! Yes, this is now officially a THING for me.
 
There was a time, for a few years, where we'd receive a promotional 11 x 8.5 paper calendar every December from one of the local realtors. A few years ago, we stopped getting them but I was able to score one from the local Buy Nothing group. The following year, I was out of luck. I was actually really upset because I like the format and I used the heck out of those calendars! I did look around to see if I could buy an insert someplace because I still have the holders, but I couldn't find one that looked like the realtor calendar I loved. So I made my own.
 
Since I made it for myself, I could put what I wanted on it. I made a progressive Jewish-American calendar with Jewish holidays that don't usually make it onto the standard calendars, Hebrew month starts and each Rosh Chodesh, as well as the Hebrew year(s) and moon phases.
 
I also put in several non-Jewish holidays that are relevant to living in a multi-ethnic area. It's fascinating to see where other lunar and lunar-solar calendar holidays sometimes align (and sometimes don't) with Jewish ones because each tradition uses different calendar calculations.
As in years past, I'm sharing my calendar for free. If you want a copy of the 2023 progressive Jewish-American calendar,
download the PDF
to print it out for your own realtor fridge calendar holder. Or just tack it on a wall. Maybe next year I'll add some art to it (I KNOW I keep saying that). Obviously copyrights apply so it should go without saying but please don't go selling my work.
 
I've done my best to proof everything but I'm only one set of eyes. If you see any glaring mistakes, please let me know so I can fix them!