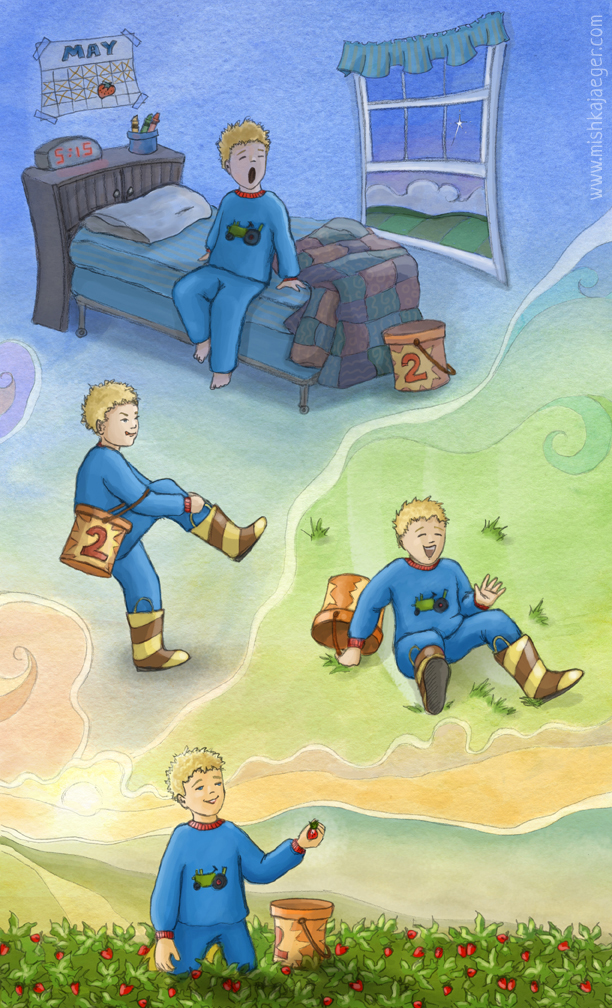 Here we go again. My submission for the SCBWI Tomie DePaola Award. It's a two-parter this year. 10 people will be picked at the end of July to go on to round 2. This was the challenge (I hope that labeling the month on the calendar doesn't count as words):
The task is to create a six-panel sequence that has a beginning, middle and an end that is obvious, featuring a character of your own invention. It can be funny, sad, dramatic or ordinary, but interesting and with lots of invention and finesse.

I understand that there are computer programs that make "sequence" easier than good old-fashioned drawing. But, I don't know any of them. I leave it to you.

SPECS:       4 to 6 panels – illustrator's choice

SIZE:          8 ½" x 14" – horizontal or vertical *Please note–this is the size of the entire piece, not the individual panels.

COLOR:      B&W or Full Color – your choice

NO WORDS
Anyway, I guess I had strawberries on the brain last month. Jaegerling1 and I went picking up at Butler's Orchard (I'll need to illustrate the outfit she chose to wear at a later date. It was perfect!) and my submission for the BWI competition included strawberries. I tried really hard to come up with something  bigger and bolder with more eye-catching characters, and even tried to come up with a different story. But this is what happened. In fact, it insisted. Maybe it's a reflection of the calm I am trying to attain in my life rather than a reflection of the chaos. Also, if you've never had a freshly-picked strawberry, you have never had a strawberry.
This was also, conveniently, one of my story ideas for PiBoIdMo 2012, which I called "The Most Perfect Day For Strawberries." The idea (and, appologetically, the working title as well) was inspired by an editorial in Real Simple Magazine by James Ireland Baker that has absolutely nothing to do with children's stories but is an excellent (though melancholoy) read. This simple section hidden in the essay told me a different story than was intended,
Or the joy of trolling Hoboken, New Jersey, markets looking for strawberries on what Philip called the Perfect Day for Strawberries. "There's one day in June when all the strawberries are perfect in New Jersey," he said. "The key is just to find it."
Here, in Virginia, that day is really toward the end of May. And Philip was talking about finding the berries at a farmer's market, not going to pick them. And let's just say I have it completely out of context now.
I have learned that the best time of day to pick the berries is as early in the morning as possible to keep the berries firm and all the juice inside. Picking in the heat of the afternoon sun leads to slightly cooked, though still quite tasty berries. My boy (who, yes, is a depiction of Jaegerling2 at an older age), is looking for perfection. I haven't fleshed out an entire story (yet) though it's possible that all I'll have is just this illustration. If there can be a "short story" in picture book literature, maybe this is it (at least until I find out if I advance and what the next task will be)! Hopefully, this speaks for itself as that is indeed the challenge!
Some notes on my process: I did all the panel sketches separately in my sketchbook, then scanned, seamed together and cleaned them up with Photoshop. I then printed out a draft and light-tabled it to do corrections. In fact, I changed the poses of both middle panels entirely. Here were my originals (after I altered panel #3, Bill pointed out that it was now too similar to panel #2 so I redrew that as well).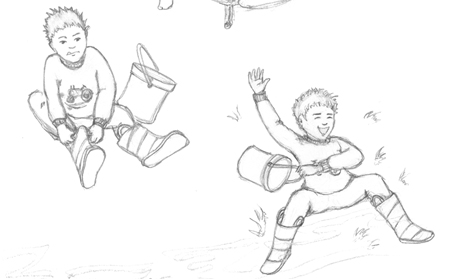 Newish to my process is the addition of a watercolor wash for the background, suggested by my friend, fellow illustrator, and virtual studio-mate (because it seems we're always on-line at the same time), Tami Traylor. I printed out the new version and then did the wash using the light table again, and on watercolor paper. Actually I did two washes and superimposed them with Photoshop, then used the "multiply" brush to bring out and recolor the sections. I used regular Photoshop brushes to paint guache-style, on top of the wash. I like the way it came out but ran out of time to do proper color-checking on the blues (life happened. As it does.). I realized that a bit late, so for now it will have to do.
And now, it's almost July and the season has changed. We're on to high summer blueberries and cherries, early peaches and watermelon. Welcome, summer!